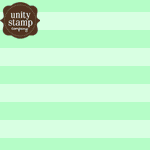 It's time for another Unity Addict Challenge, won't you come play along with us? This week it's a time to get scrappy with your Unity/Ippity and make a layout using the theme "Summertime Fun". Never fear if you don't scrapbook pls join us anyhow by making a "Summertime Fun" card! All the deets are here in the Main Unity Forum.
Here is my layout, I used oldie Unity stamps.
Close up:
Now if you are a KOTM subscriber there are amazing stamps in that kit to make a summertime page or card. I should make a summertime fun layout with my son in it so I think using those new stamps is next on the list. LOL!
If you are a Unity Addict and want your creations in the spotlight swing on by the Unity Friends Forum and check out the Growing in Unity thread. Unity friend and addict Ramsey started this a long time ago, probably over a year and half now! Ramsey did a fabulous job but now is very busy to keep it up, so it's my turn! I'm happy to be helping out.
This week ANGIE BLOM is Growing In Unity and has two wonderful projects posted this week already! Be sure to check out the Unity Blog tomorrow as there will be a special GIU post featuring Angie!
That's it for now from Unity Addicts Land.
Be sure to stay tuned this week for some more fun Unity stuff as well as some fun stuff using my awesome TREEHOUSE DIGI STAMPS!!
Till later...